Legend of Spyro Dawn of the Dragon Käytetty DS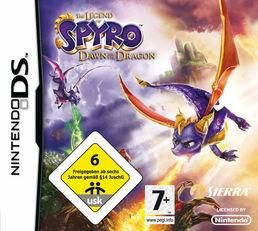 Spyro is back!
In the culmination of the trilogy, players find Spyro teaming up with an unlikely ally – Cynder, his former enemy, to face his most challenging mission to date.
As the Dark Master's (voiced by Mark Hamill) evil envelopes the world like a plague, Spyro must fulfill his destiny and unlock the true power of the purple dragon within him to stop the Dark Master in his tracks.
 
Two elements never before seen in the Spyro universe: fly at any time and drop-in/drop-out co-op, with Cynder. Both characters can complete the game separately as well.
Cynder being introduced as a strong, female lead alongside Spyro, girl gamers will have something to get excited about!
Fun combat gameplay with new elemental attack moves/combos, enemies, environments, etc.
This is the third and final installment of an epic trilogy, giving players a more mature character design and story line since the previous title; The Eternal Night.
Spyro makes his debut on the PS3! This new venture for the purple dragon onto the next gen console will attract new players who may have not been able to experience the Spyro series previously.
All-star voice cast including Elijah Wood, Gary Oldman, Blair Underwood, Christina Ricci, Wayne Brady and Mark Hamill