Hasbro Family Game Night käytetty Wii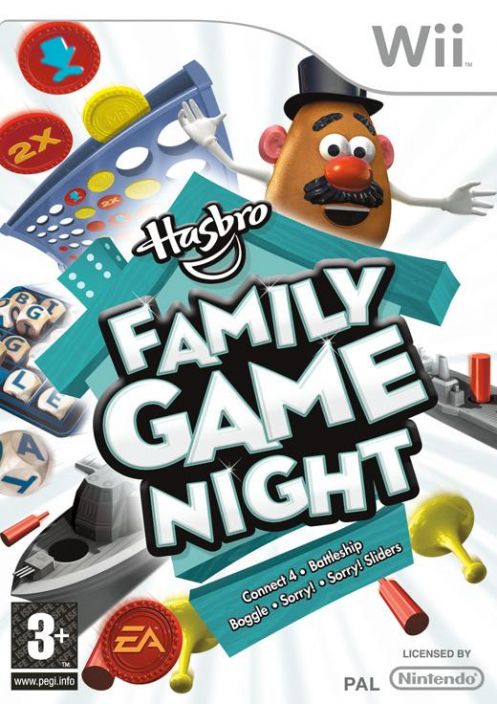 Alien Syndrome is a fast-paced action-RPG with shooter elements. Set in a stunning sci-fi universe, the game features two fast-paced action-RPG modes – the dramatic and engaging single-player campaign, plus an infinitely replayable co-op multiplayer mode for up to four players. Derived from the classic SEGA arcade game, Alien Syndrome's new sci-fi action-RPG shooter gameplay makes it easy to pick up and play, while its depth and wealth of features and missions keeps it challenging for all gamers.

In Alien Syndrome, players take control of the game's strong and enigmatic heroine, Earth Command Trooper Aileen Harding, and battle a variety of fearsome aliens and colossal bosses. Gamers will choose from a wide selection of character specialties and skills upgrades as they progress through an engrossing campaign and fight through infested spaceships and bizarre alien planets.

Alien Syndrome on the Wii utilizes the Wii Remote's motion-sensitive technology to allow players a precision targeting system when shooting through hordes of enemies, circle-strafing around epic boss monsters, or running and gunning through hallways packed with alien adversaries. Gamers will also be able to access new Wii-specific game modes and features which expand on the core gameplay. These include using the Wii Remote to craft new items, enhance existing items and character abilities, and hack into computer systems.

* High quality sci-fi action-RPG gameplay for the Wii: Alien Syndrome combines the intensity of a fast-paced, action-packed sci-fi shooter gameplay, with the depth and customization of an RPG. Frenetic single-player and multiplayer modes are packed with over 100 enemies, 15 sub-bosses and five main bosses to fight, using 80 weapons and hundreds of armor types and bonus items.

* In-depth gameplay: Explore 15 intricate levels and take on multiple side quests – 20+ hours of action-packed adventure.

* Completely customize your character to expand in-game strategy options: Choose from several character classes, each with their own strengths and weaknesses. Upgrade your character stats as she grows in experience, accessing a host of new abilities and game features. Your loyal robot assistant also fights alongside you, exchanging and improving your weapons and armor at any time.

* Fight in the single player campaign mode or in four-player cooperative mode: Venture solo through an expansive and varied sci-fi world, or battle along side up to four friends in Co-op Mode.

* Inspired by the original SEGA arcade shooter: The latest classic SEGA brand to be reborn with an improved and innovative new design!

* Unique precision targeting gameplay utilizing the Wii controller. Discover a whole different immersive way to play an action-RPG, utilizing the Wii remote and nunchuck to simultaneously aim, shoot and move your character. Alien Syndrome on the Wii features four player single-screen co-op, exclusive Wii specific mini-games, Wii remote and Nunchuk specific control scheme, and Wii-quality graphics and audio.